Photo courtesy of Getty Images
The World Cup Pitch Invader
Mario Ferri and his messages on the world stage
December 14, 2022
The FIFA (International Federation of Association Football) World Cup is the largest sporting event in the world. It is estimated that over 5 billion people will tune in to watch, more than double the viewership that the Olympics receives. This year, the World Cup is currently being held in Qatar. The decision surrounding this choice has been largely controversial. The country is facing multiple allegations of human rights abuses, unfair treatment of minorities, and violations against the freedom of expression. 
During the second half of a match between Portugal and Uruguay, a man named Mario Ferri invaded the football pitch carrying a large rainbow flag. He sported a shirt with the words "Save Ukraine" on the front and "Respect for Iranian Woman" on the back. He was tackled by security within the first few moments of entering the pitch and banned from all future World Cup matches, but his presence sent a powerful message.
Preparations for the World Cup began when Qatar won the bid to host the event in 2011. These preparations have included the building of seven new stadiums, a metro-rail system, and hundreds of hotels. Bloomberg estimates that Qatar has spent around $300 billion on World Cup preparations, making it the most expensive World Cup in its 92 years of existence. To put this in perspective, the costs of 2018's World Cup hosted by Russia totaled a meager $11.6 billion.
The building of this infrastructure required thousands of workers. The reported working conditions were less than acceptable. Thousands fell victim to wage theft by employers, workers were prohibited from unionizing, and 6,500 migrant workers died due to "natural causes." These deaths have been described by the Qatari government as "within the expected range for the size and demographics of the population." However, the majority of these deaths remain a mystery. According to The Guardian, the official data "often fail[ed] to provide a legitimate medical explanation" for many of these deaths. Hiba Zayadin, a researcher for Human Rights Watch, calls the situation a complete "disregard for workers' lives." Regardless of the cause of these deaths, this was a failure of the Qatari government to ensure the protection and safety of their workers.
Mario Ferri called attention to many of these topics. For those who are not up to speed on the specifics of Ferri's messages:
The Rainbow Flag: Homosexuality continues to be suppressed in Qatar. Under their Penal Code, "leading, instigating or seducing a male in any way to commit sodomy or dissipation" is illegal, and punishable by up to three years in prison and a fine. Qatar's restrictions on the freedom of expression prohibit people from campaigning for LGBTQ+ rights. To protest these laws and promote inclusion for all people, many football captains from European teams were set to wear rainbow armbands during the World Cup games. Unfortunately, all of them backtracked on their decision after facing backlash from FIFA. Ferri's carrying of the rainbow flag was a show of support and solidarity for the LGBTQ+ community.
"Save Ukraine" (in a nutshell): Following Russia's annexation of Crimea and their support of pro-Russian separatists fighting against Ukraine, political tensions between the two countries skyrocketed. In February of 2022, Russia launched a full-scale invasion of Ukraine. Vladimir Putin, the president of Russia, has credited his reasoning to ensuring the neutrality of Ukraine, 'protecting' the people of Ukraine from their 'corrupt' government, and – this is a quote from Vladimir Putin – to "demilitarize and de-Nazify Ukraine." The conflict has displaced millions of Ukrainian citizens. An overwhelming amount of evidence has led many countries to accuse Russia of committing war crimes and crimes against humanity. Many countries around the world have pledged their support of Ukraine. Financial and military aid continue to be sent to Ukraine to assist in the fight against their invaders. Peaceful negotiations have failed, and the conflict is ongoing.
"Respect for Iranian woman": Throughout the country of Iran, women have been engaged in ongoing protests against government repression following the death of Iranian Kurdish woman Mahsa Amini. Arrested by the Iranian "morality police" for not following the compulsory hijab laws on September 13th, 2022. Hijabs, which are head coverings worn by many Muslim women, are mandatory in Iran. Amini was severely beaten by security forces and suffered a fatal heart attack at the age of 22. This sparked a wave of demonstrations against police brutality, government repression of self-expression, and the hijab laws forced upon the population by the Iranian government. Iranian protesters are calling for freedom and change, resisting the overly restrictive rules placed on Iranian women. Protesters have been facing mass arrests, beatings, and reported killings of hundreds of protesters. The protests have shown no sign of receding.
 Mario Ferri has become a symbol of hope in the LGBTQ+ community, among Iranian women, and has drawn more national attention to these global issues.
Leave a Comment
About the Contributor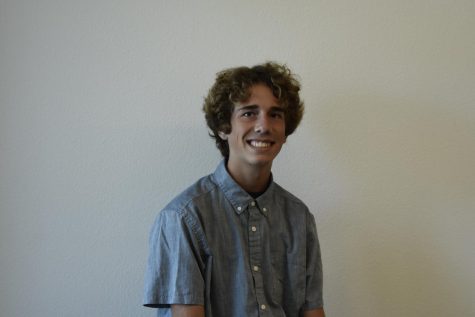 Haden Macdonald, Staff Writer
"Glory is fleeting, but obscurity is forever."