Euphoria Special Episodes Review
A quick look into the two most recent episodes of Euphoria
February 9, 2021
This article contains spoilers for "Euphoria"
Everybody who watched the HBO drama series "Euphoria," which originally came out in the summer of 2019, has been eagerly awaiting a second season. Just days before March 13th, the day everything stopped, Alexa Demie, one of the stars of the show, teased the script on her Instagram story. However, as COVID-19 spread throughout the country, the production process was understandably halted.
Then, on Dec. 6, 2020 and Jan. 24, 2021, HBO released two special episodes focusing on Rue and Jules, respectively. Both episodes used a minimum number of actors and focused on an introspective conversation each character was having. Both episodes ran around an hour long. 
When I started watching Rue's episode, set in the late hours of Christmas Eve in a nearly abandoned diner, I was just waiting for the scene to change. There Rue sat, across from her sponsor, Ali. They were engaged in a meaningful and reflective conversation about life, addiction, and loss. Twenty minutes elapsed, and I realized that this conversation was the entirety of the episode, but honestly, I had forgotten I was expecting anything else. 
The thing that was so extraordinary about this episode was how it revealed so much about both Rue and Ali's inner lives and brought to the surface deeper truths about addiction and life's intricacies. Anyone who is a fan of people-watching might understand there can be so much intimacy and expression in a simple conversation at a diner booth, especially when the scene manages to be set in such a way that the booth feels so private. 
Of course, Zendaya's performance was amazing. She won an Emmy for her role as Rue in Euphoria, after all. The entire time, I felt like I was just watching two people in my real life have a real conversation.
Nearly two months later, when I found myself watching the second special episode that focused solely on Jules, I was stunned by the beauty and grace of Hunter Schafer's performance. 
In Jules' episode, the primary story was taking place in a single therapist's office. Still, Jules' narrative spurred scene changes in the form of flashbacks, pulling in characters like her father, Nate, and her estranged mother. In contrast, Rue's episode only contained herself, Ali, a wise waitress, and a fistful of extras. 
Again, the episode centered around a conversation. It opened with a shot of Jules' eye, in which various scenes from the previous episode were being projected. It was certainly a visually stunning and interesting introduction to the episode's focus, after which we find Jules in a therapist's office.
From there, Jules embarked on an emotionally raw, gripping reflection of her experiences, her childhood, and more recent events. I sat in my bed, watching this conversation unfold, and I could not believe that it was a construction, premade, and written into a script. The way the thoughts flowed and Schafer moved and gestured created such a sense of organic conversation, and it was mesmerizing. I am sure that authenticity in her performance was derived from her role in creating this special episode and how Schafer's voice and feelings were infused into the dialogue.
A little way into the episode, Jules' narrative began to incorporate flashbacks and pieces of an imagined reality where she and Rue were living in the city together. The difference between these two lengthy narratives that allowed Jules to incorporate a larger variety of scenes was that Jules was really the only one sharing. Rue was having a conversation, and as she was doing so, Ali was being developed as a character just as much. But Jules, Jules was speaking. She was delivering a speech, and she was the sole subject. The thing about Jules' episode that made it so powerful, though, was the way that it exposed Jules in an entirely new light. 
These episodes were meant to be supplemental, a little taste to tide the audience over. At this point in the year, if COVID-19 had never happened, we would already be re-watching season 2 of Euphoria. These episodes were the product of a second season being ready to be shot, but no way to shoot. These episodes were not meant to add anything to the plot of the next season as a result, and that is why they were allowed to go so deep into an exploration of character, in a way that we don't usually get to see. 
However, we already knew Rue. We had spent the past season getting to know her, watching her, hearing her speak and act. Yes, we got to know Jules, too; she had an episode dedicated to her story, just like every other major character. However, as the show progressed, her character lost her voice. We did not hear how she was feeling about certain things. The exposition of her character was slightly lacking. As she and Rue experienced incredibly trying and volatile moments, from a drug overdose to being catfished and blackmailed, Rue was the only one whose thoughts and feelings were being projected to the audience.
In this episode, Jules is uncovered. As the opening scene suggests, where the memories were reflected in her eyes, she recounts to her therapist what she has been experiencing. 
Overall, both episodes were wonderful, creative, and inventive. The cast and crew saw the challenge of creating these two episodes in an immensely difficult time and handled it beautifully.
Leave a Comment
About the Contributor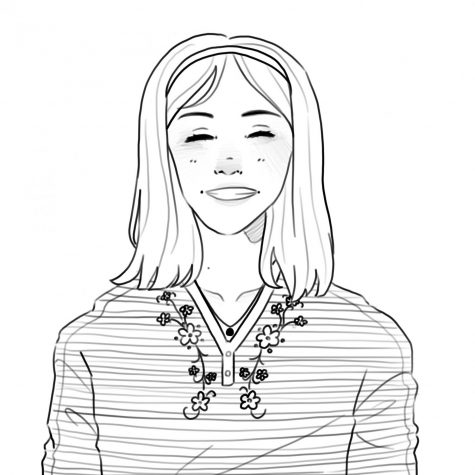 Olivia Lyons, Spring Arts Editor