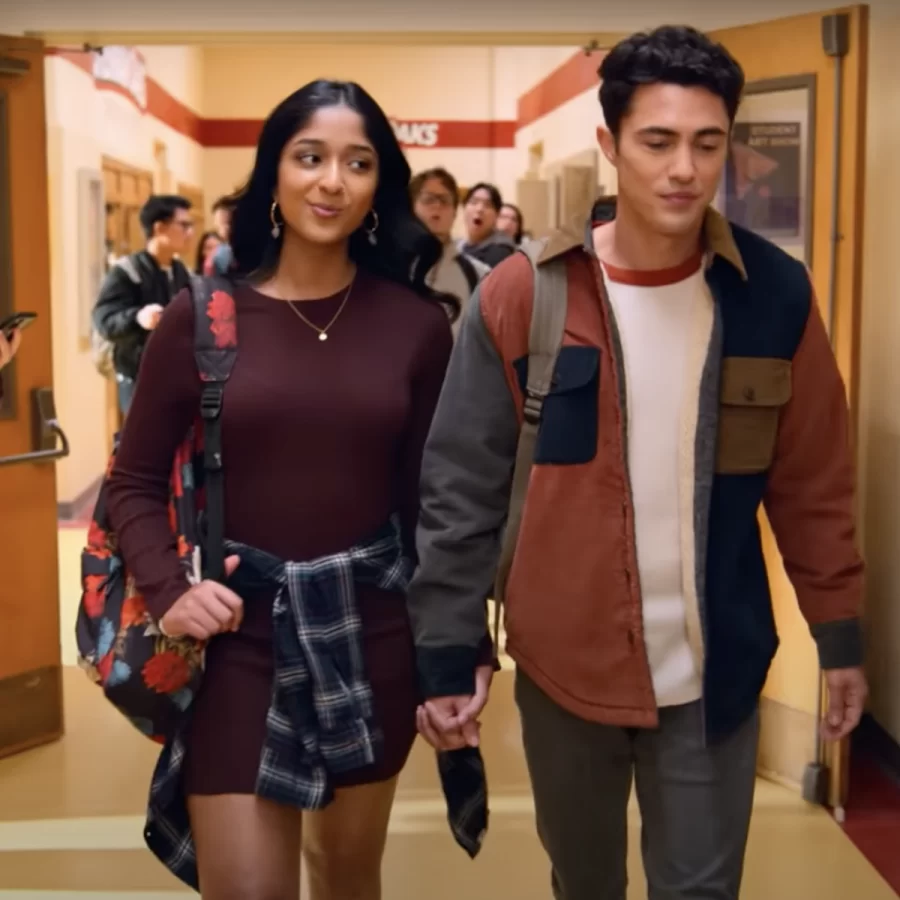 Team Paxton vs. Team Ben
Why Paxton is the only one for Devi.
September 29, 2022
SPOILER, IF YOU HAVE NOT WATCHED NEVER HAVE I EVER, PROCEED WITH CAUTION: We all know the "bad boy" of high school, and in this situation, it happens to be Paxton Hall Yosheda.  Paxton's charm and his GPA are inversely related, but isn't this the typical hot boy stereotype?  Main character, Devi, had been head over heels for Paxton since the age of nine and spent all of freshman and sophomore year trying to turn his head her way.
Ben on the other hand, is the complete opposite.  He and Devi have been longtime frenemies who eventually turn into lovers for a brief moment.  Both have been competing for valedictorian ever since the start of high school, and are also competing to be top of their class.  This constant rivalry/ friendship might make some Never Have I Ever fans choose team Ben, but it is truly team Paxton that wins in the end and here's why.
So obviously the strong feelings Devi had towards Paxton had not been reciprocated until nearly a whole season later, but Paxton had made up for such foolish behavior.  At a night at a high school party, Devi gets drunk and gets bit by a coyote whom she believes is her dead father reincarnated.  To her surprise, it is just a ravenous animal which bites Devi.  Paxton acts as her night and shining armor when he takes her to the hospital and makes sure she is alright.  Although some may believe that this act of decency is really the bare minimum and that any good friend would get Devi help, Paxton was the only one kind enough to leave the party and make sure that Devi gets the help that she needs. From then on, Devi and Paxton become closer friends and eventually start dating. 
Ben and Devi are not good for each other.  As far the famous but true saying "opposites attract" goes, Ben and Devi could not be more alike.  They are both braniacs, are apart of the speech and debate team, and both "hate" each other.  They just have too much alike, and would eventually grow to be bored of each other. Their relationship would only last for a few months, and they wouldn't grow.  
Because Paxton and Devi are polar opposites of each other, they would have a long lasting and healthy relationship where both of them could flourish.  Devi pushes Paxton to defy the popular jock stereotype by teaching him how to effectively study and get better at his academics.  Paxton has been the shoulder for Devi to sob on after getting in fights with her friends, and overall acts as her support system.  Paxton gains confidence from being with Devi, while Devi learns how to express how she feels.  They are the perfect yin and yang to each other. 
Even though it is evident that Paxton and Devi decide to go their separate ways in season three, I believe they could have made it work.  Paxton was perfectly content with dating Devi, whereas Devi constantly felt that she did not deserve a perfect boy like Paxton.  If Devi had stopped comparing herself to every girl Paxton has gotten with, and learned to have a higher self-esteem, maybe their relationship could've worked out.