Art Wars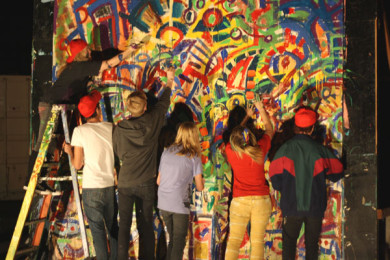 SDA students and elective classes put on an arts and tech fest on Jan. 20 in front of the Mustang Center. The festival had food vendors, a jazz band, one-act theatre performances, student made products available for sale and an Art Wars demonstration.
The art wars demonstration was put on by Mr. Wright and the Art Wars Club, a revived club from two years ago. Juniors and sophomores Suki Berry, Sammay Ness, Kiley Dalrymple, Julian Dennis, and Mike Guhl were the painters that participated in the art wars.
The Art War consisted of two painters going up to a 100 panel grid and painting whatever they choose during a ten minute interval. Then they would switch places with two different painters. The war lasted an hour and individual panels were for sale after. The club sold about 30 panels and there was a big rise of interest in joining the club.
"Art Wars, in a sense, is not about the painting, it's about the experience. When people take home the panels, it is supposed to remind them of the experience," said art teacher Jeremy Wright.