A Doggone Good Play
The phrase "man's best friend" has come to represent the undying loyalty between man and dog. There are always stories of the furry creatures rescuing people from fires, or calling 911 when their owners collapse on the floor. Such stories are nice to hear, but when it turns out that "man" has no human friends, it can be a little more disconcerting than heartwarming.   High school seniors portrayed a middle-aged couple ridden with marital problems while a teenaged girl starred as the dog at the source of their many arguments in SDA's production of A.R. Gurney's Sylvia. The actors in the performance had to draw on experiences beyond their years (and species), but did so with ease, drawing many bouts of laughter and applause from the audience.   Although pets aren't allowed in the theater, sophomore Madeline Karydes, who wore knee-pads as she crawled around stage, came close to violating the rules with her spot-on portrayal of the dog Sylvia. With many ear-scratchings, lap-sniffings, and sharp barks of "hey!" Karydes captured the spirit of a living, breathing dog – albeit, one with fully-functioning vocal cords and the ability to communicate with humans.   Mitch Lange played Greg, Sylvia's loving owner and a husband in the doghouse when he brings her back home unannounced. His wife Kate (Sophie Bandstra) is everything but welcoming to the previously homeless mutt, and has to fight with Sylvia for her husband's attention. Hilarity ensues as the couple consults friends and professional help to salvage their marriage.   Sylvia, which was performed on Dec. 8, 9, and 10, is the second production to take place in the Academy's new Clayton E. Liggett Theater. The next, in January, will be Mary Zimmerman's Metamorphoses.
About the Writer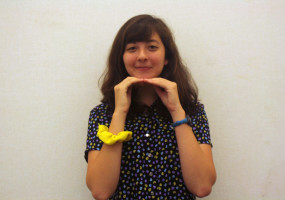 Lily LeaVesseur, Business Manager/CAF Editor
This is Lily LeaVesseur's third year with The Mustang.  Her titles include Business Manager, CAF editor, and Most Popular.