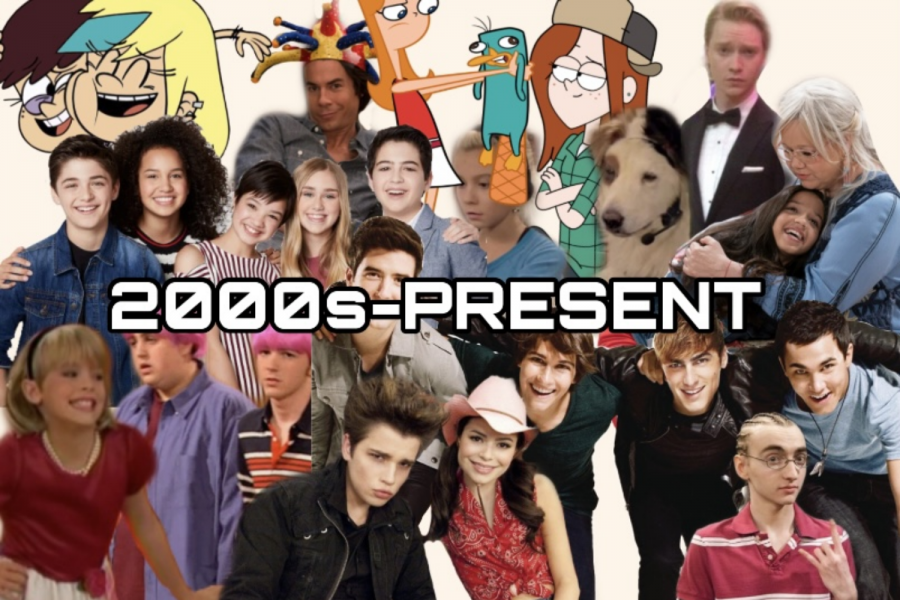 The evolution of children's TV show humor
How Disney and Nickelodeon are taking strides towards more inclusive content for their audiences
March 22, 2021
With the addition of the classic Nickelodeon hit sitcom "iCarly" to Netflix last month, streamers got the opportunity to relive the nostalgic moments that fronted the late 2000s television scene. From spaghetti tacos to random dancing, "iCarly" was the epitome of obscure yet popular children's television that was entertaining enough to keep the whole family involved. As I rewatched some episodes, I realized just how much the censorship of children's television humor has changed.
Without the technology of tablet streaming or entertainment subscriptions, families could only watch one program live at a time from cable television. This limitation pushed producers to create children's shows that could be simple enough to appeal to their young demographic while keeping the parents entertained.
Take "iCarly," for example. In an episode, Gibby's eight-year-old brother Guppy is seen wide-eyed at a table, reading a book titled "Nifty Shades of Beige." While children may have been blind-sighted to this reference, the allusion to the novel "Fifty Shades of Grey" by E. L. James kept the adults entertained with the innuendo. 
The level of adult humor incorporated into kid's shows varied greatly from channel to channel. While Disney Channel programs would slip in an innuendo from time to time, they also had a bigger, family-friendly brand to live up to.
On the other hand, Nickelodeon did not have the same reputation as Disney, as well as popularity in the broader media. This allowed the network to use their teen demographic to their advantage with specialized networks such as TeenNick. TeenNick allowed Nickelodeon to dive deeper into more mature, teen-targeted humor, which Disney attempted to match with DisneyXD. DisneyXD marketed its content towards the pre-teen demographic and televised cartoons, sports, and gaming-related content.
Aside from the hidden jokes, children's shows from the late 2000s based some of their punchlines on various harmful stereotypes. For example, overweight characters were usually used for the sole purpose of comedic relief, and POC characters being portrayed with heavy accents.
For instance, Ravi Ross from the Disney Channel show "Jessie" was portrayed in a heavy, stereotypical Indian accent, while his actor Karan Brar speaks with an American accent. Additionally, Nickelodeon shows, specifically ones produced by Dan Schneider, have used the appearance and struggles of homeless people (referred to as "hobos") as humor. On the old "iCarly" website, there was a photo album of the main character Carly dressed as a 'hobo' in celebration at a  "hobo party."
When streaming services such as Netflix and Hulu started to gain a higher following in the early 2010s, the need for family-wide humor satisfaction for children's shows began to disappear. Children's shows could further narrow their audience to their younger demographic as television programs could be accessible from places other than a physical television.
A new generation of Disney Channel shows such as "Girl Meets World," "Liv and Maddie," and "Dog With a Blog" did not have to become as heavily reliant on innuendos to please the older audiences. Essentially, kid's shows became shows specifically for kids.
By the mid to late 2010s, Disney and Nickelodeon stepped aside from including innuendos in their humor and instead took strides towards including more diverse, serious topics.
To keep up with Netflix's competitors, Disney Channel ditched the typical laugh-track sitcom and created their drama pieces suited for kids. In an episode of "Andi Mack" from 2017, Andi's best friend Cyrus realizes that he has feelings towards the same boy that Andi has a crush on. While LGBTQ+ characters had started to make an appearance on the channel back in 2014, "Andi Mack" made history as the first Disney Channel show to feature a coming-out scene, as well as the word "gay," according to InsideTheMagic.
Even as recent as 2020, Disney Channel has slowly been ticking off all the boxes. In an episode from the sitcom "Sydney to the Max," Sydney becomes the first-ever Disney Channel character to experience their period on screen, according to ScreenRant. While puberty had been used as the punchline in children's shows before, menstruation was viewed as a taboo subject. 
When children see a character go through something that is still not being talked about enough, it helps comfort them and familiarize themselves with the subject.
For many kids, the media is where they catch their first glances at society. With television companies challenging the previous heteronormative, racist, and ableist ideas that were previously being presented to viewers, children are given the opportunity to see a more accurate portrayal of the world around them today.
Although the subjectivity of humor is heavily based on the audience and when the show aired, I think that television has come a long way in terms of inclusivity. I'm proud of children's television shows for the strides they have taken to stop treating minorities and stigmatized subjects as simply comedic relief and instead properly educating the audiences.
However, while it's fun to reminisce on those nostalgic moments one feels when watching shows from their childhood, it's important to acknowledge the fact that insensitive topics were being unfairly portrayed as humor. Hopefully, now, that is changing.