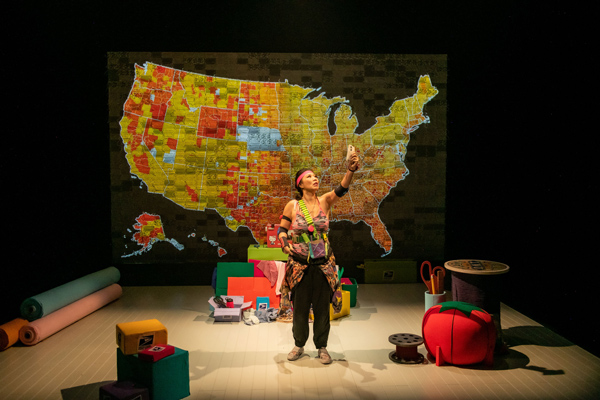 Courtesy of La Jolla Playhouse
Wong's one-woman wonder
One-woman play about the pandemic unfolds at local theater
October 11, 2022
"Will you be generous in more than times of crisis?" 
In a single follow-spot, surrounded by giant spools of thread, pin cushions, and her Hello Kitty sewing machine, Kristina Wong ends her one-woman show at the La Jolla Playhouse by contemplating with the audience. Her series of questions ties together the 90 minutes of reflections, one-liners, and pandemic stories that make up Sweatshop Overlord, Wong's original play, which runs until October 16.
Her performance starts with a built-in land acknowledgment and is a rollercoaster of emotions capturing her journey through the COVID-19 pandemic: 
Just days after the first shutdowns went into effect in 2020, Wong set up a community on Facebook that sought to provide handmade masks to essential workers and marginalized communities. The "Auntie Sewing Squad", as it's called, is a nationwide group of volunteers, seamstresses, and organizers that helped each other help others. The "Squad" hand-sewed masks from salvaged materials, donated elastics, and even lanyards to fulfill requests during the national shortages and supply chain issues. 
It became a full-time occupation for many "Aunties", though they were not paid for their labor – hence the ironic term "sweatshop". 
The show relives the intense emotions associated with the first wave: a time of unity and division, of grief and survival, and of vulnerability and incredible strength.
Despite the hardships and distance, empathy and community bloomed during this time. The "Squad" was a community that demonstrated this – many "Aunties" have said that the group and the work were what got them through quarantine. Upon watching the show, this life-saving aspect is easy to understand.
Sweatshop Overlord is a one-woman show, the stage never feels empty. Wong's energy easily reaches even the back balcony of the audience. The projections used are similar to those in Fandango for Butterflies (And Coyotes), the previous show at La Jolla Playhouse-to set the scene and bring up old memories. 
However, Sweatshop Overlord's projections consist mainly of news segments and videos of events from the past few years. They range from the death of Supreme Court Justice Ruth Bader Ginsberg to the forest fires that swept the West Coast in 2020, and they are all projected on a wall of disposable masks.  
Wong portrays quarantine using a metaphor of war and combat that spans the whole play. She army crawls across the stage to get packages to the post office on time, shoots masks out of a t-shirt cannon, and her black coveralls convert into an armed neon zumba ensemble. 
The set, costumes, and projections came alive as other "actors" on stage, with Wong in conversation with them. The show is unique, intellectual, and hilarious: a must-see at the Playhouse for everyone. 
And the "Aunties" agree! Auntie Marissa, who had flown in to see the show from Phoenix, Arizona, reflected on how much she enjoyed Sweatshop Overlord during an after-show panel: "it's like Kristina went into our chests, pulled out our hearts, shook it all up like a snowglobe, and put it all together".
View Comments (1)
About the Contributors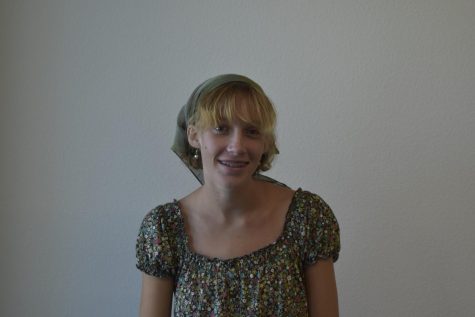 Sophie Love, Arts Editor