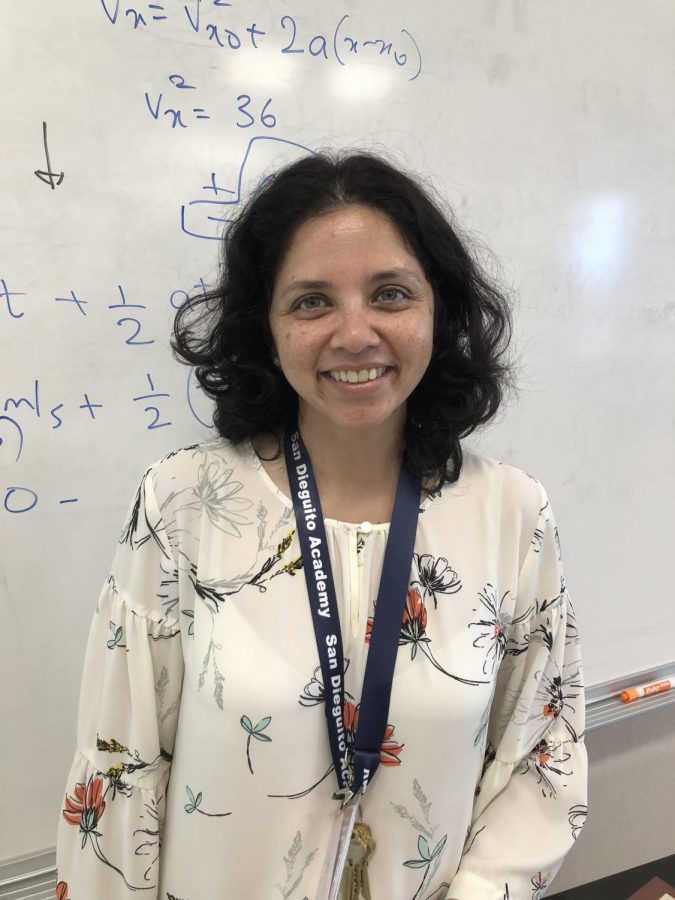 Photo by Joice He
SDA welcomes its newest science teachers, Madhuri Agashe and Jennifer Kuo
September 10, 2019
The old piano and physics posters on the walls of Room 99 are familiar, but the colorful hand-made table signs hanging from the ceiling panels are recent additions. After only a week of teaching at San Dieguito Academy, Madhuri Agashe, the newest Physics teacher, has already made the space her own. 
Agashe grew up in India, and studied engineering there before coming to the United States to get her Masters in Bioengineering. She only just received her teaching credential last December, but has experience teaching physics for one semester at Torrey Pines and student teaching at Poway High. 
"Before I signed up to teach here, I came in for an interview…I went out to walk around the campus and get a feel of it, and I really liked what I saw," Agashe said. "I liked the vibe that was on campus; the teachers were very friendly and supportive and it seemed like a good fit." 
Agashe has two daughters, one in seventh grade and the other in second, and enjoys student theatre. Though she said she is unsure of what other on-campus activities that she might get involved with, Agashe is interested in music and wants to attend some band concerts.  
"I trained in classical Indian music…even here, I have friends who get together – we say we'll  get together once a month, it ends up happening once every two months or something – and we'll sit together and jam," she said. 
Agashe said she advises her students to focus less on grades, and more on the content of the lesson. "People stress over the grades way too much," Agashe said. "Down the line, what's really going to help you is what you learned, not your letter grade." 
Overall, Agashe said that she has enjoyed her first few weeks at SDA, though the pacing of the four-by-four schedule is sometimes grueling. 
"There's a lot more prep that teachers need to do to make sure every class is effective," she said. "But other than that, the people are great, the campus is nice, and so far I'm really enjoying myself."
SDA welcomes its newest science teachers, Madhuri Agashe and Jennifer Kuo
Jennifer Kuo is one of the new chemistry teachers at San Dieguito Academy. She is  always smiling and is extremely devoted to her job. She graduated from the University of California, Berkeley and has always loved science. She said she finds science fascinating because she "always found it challenging and loves seeing the results through hands on activities."  
However, Kuo didn't begin her teaching journey until after college. She was working an office job when her family friend suggested that she would make a great teacher. Since then she has loved teaching and has especially enjoyed San Dieguito Academy so far. In comparison to her old school, she likes SDA's schedule, students, and atmosphere. She has found the staff extremely welcoming and said she is, "making more of a difference and feels like the students more creative."
When she's not teaching, she is either "trying to cook, singing, listening to music, drawing, or playing with her 10 year old husky named Flame." 
Kuo cares a lot about her students, tends to let her students voice their opinions, and allows them to make classroom decisions. If you see her around campus make sure to say hi or even just flash a smile. It will make her day. 
About the Writer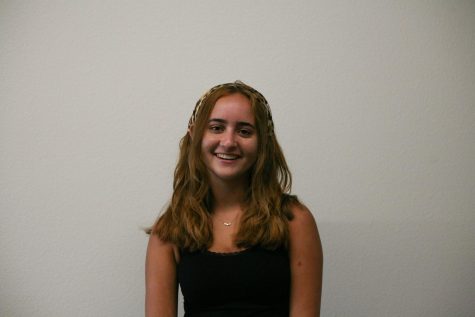 Kate Barr, Staff Writer
Leave a Comment