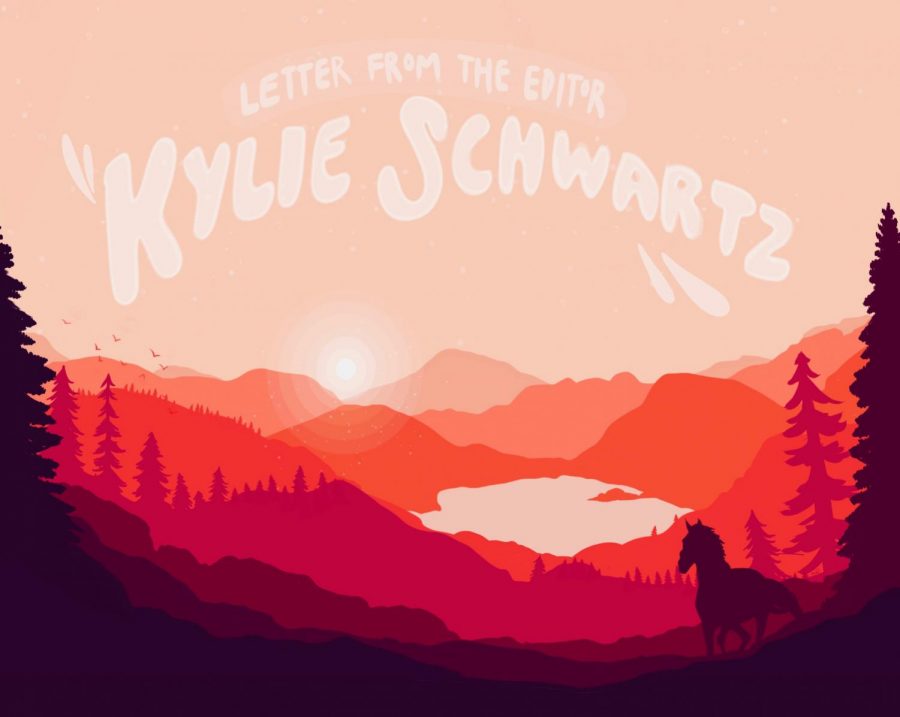 A letter from the editor
COVID, college. COVID, college. What else is there?
April 21, 2021
When I was much younger, from birth until around third grade, my dad split his time between San Diego and New York City. He had an apartment there overlooking Times Square, and my mom, brother, and I would fly over there frequently to visit him. 
One of my biggest memories from my visits to New York at that age was how hard it was to breathe in the city. The sky was dense with smog, and on the days the sun shone, it turned everything a pale shade of gray. It was beautiful in its own way– so different from my native San Diego– but I remembered how I would have to hold my favorite yellow-striped scarf over my mouth and nose in order to breathe properly.
I mull over this childhood memory a lot now. Wearing a mask then would have helped eight-year-old me cope with asthma she didn't realize she had at the time. And now I wonder how I will ever not wear a mask in NYC again– not just to prevent asthma attacks, but also to feel at least semi-comfortable amidst large hoards of strangers? In that same vein, how will I ever use the subway system ever again? 
I think about a hypothetical future me, twenty years after the (supposed) end of COVID-19, schlepping her kids around in a crowded bus or subway, still be-masked and armed with travel-size hand sanitizers as I bark at them: "Don't. Touch. Anything!!" 
But things will have to go back to normal eventually. I say this all now while still in the thick of things, still sanitizing and masking and refusing to see friends without masks on even though more and more of us are becoming fully vaccinated. A cloudy body of water could be two feet or two hundred feet deep– it's hard to tell when you don't have much information, and it's normal to feel hesitant about jumping in when you've been standing at the water's edge for over a year now.
However, when that point of full vaccination arrives… then what? We are technically allowed to hang out in person, not distanced, without masks at that point. But it doesn't feel like that is allowed yet. I suppose that part will take some time, and we need to allow ourselves that time. It's a big thing to move from one state of existence to a drastically different state… which brings me to college decisions. 
This letter from the editor comes to you during a particularly stressful time for many high school seniors– choosing which college to attend. For many of us, this is the first time that we make a decision that will drastically impact the direction of our lives. Be it is choosing a school based on a mystical, far-off location, or an interesting major, or off of the relative financial freedoms one school may offer over another, choosing which college to attend dominates my every thought.  
The "right choice" boggles around in my mind as I write this letter to you. This elusive idea of one college that will solve all my problems. But truth be told, that's not what this decision is about– going to college at all is a fantastic opportunity, and any place that I choose– any place that any of us choose– will set us up wonderfully. 
Speaking of which, a message for all my fellow seniors: once you have decided on your post-high school plans, fill out this google form to let us know of your plans, and thus help us compile data for the Senior Map for the class of 2021! 
Despite how prevalent the pandemic and future decisions loom, those are not the only things that must command our attention. Derek Chauvin was just convicted for the murder of George Floyd– a landmark case for the state of police brutality in America. You can read all about the trial in Staff Writer Andrew Sinclair's new article.
If you're interested in something more light-hearted, however (a stance with which I can completely empathize), check out Reviews Editor Matthew Hagan's Opinion on Why South Park is still funny, or Arts Editor Olivia Lyons' review of the (relatively problematic) Netflix Original film "Moxie."  
At the risk of sounding like a broken record, remember that COVID-19, and college decisions, and AP tests, and all of this, will not last forever. It feels like it now because we're in the murky water, but we can truthfully say that the shore is actually, definitely, in sight. "Normal" will come again with time, and we need to be patient with ourselves in order to get back there.
I'll see you soon,
Kylie Schwartz