Lots of Love for Locks of Love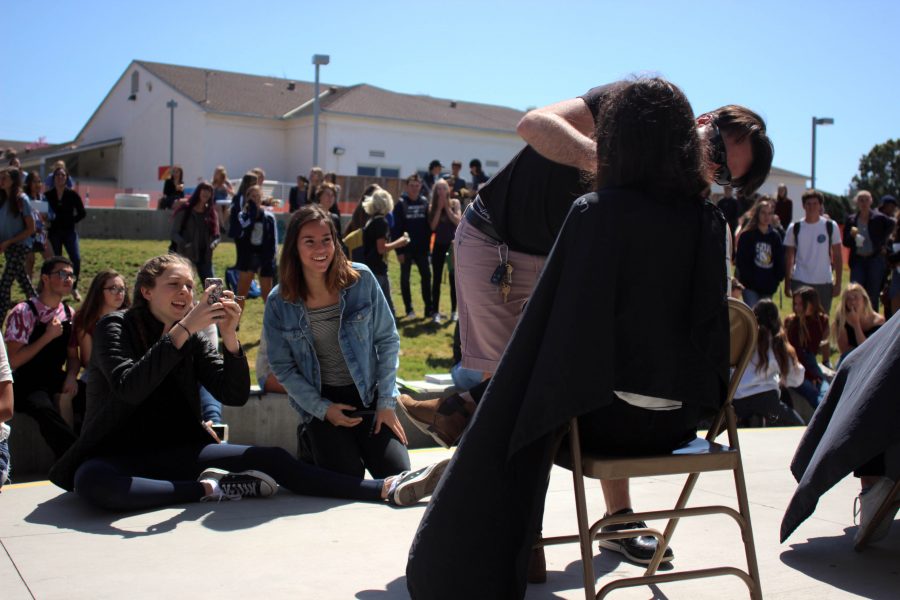 Friends cheered, the crowd roared, and SDA girls anxiously waited for the first snip of the scissors to cut off their long locks of hair on Thursday at lunch. As what was once long instantly became short, apprehension filled the air but for many they were overcome by the warm feeling of helping those in need.
SDA's yearly Locks of Love charity event took place in front of the PAC, welcoming all students to cut off eight to 12 inches of hair for charity. Stylists from Detour Salon, located on the South Coast Highway 101, volunteered to cut hair and help make this event possible.
All hair 10 inches and longer will be donated to Locks of Love for patients with cancer. Meanwhile the rest will be given to a program in Pantene. From there, all hair will be made into wigs to help those suffering from hair loss.
"It makes me feel good because there are other people that need it more than me," said sophomore Christina Tarangelo who had her hair cut.
Katie Hostler, sophomore, also felt the experience to be worthwhile: "I was excited and scared but I wanted to cut my hair for a long time."
After contributing to a good cause, students who took part in this event were given a voucher for a free haircut at Detour Salon.