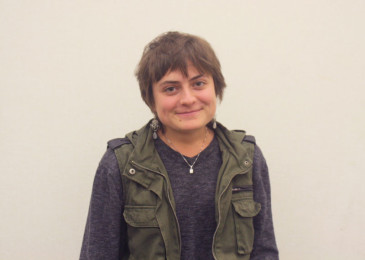 Nicole Smith is starting her third year on the paper and her senior year at San Dieguito Academy. She was Online Editor during her junior year, and is now the News Editor for print.
Some mediocre and mildly impressive facts about Nicole Smith:
She enjoys swing dancing with her friends.
She has a large horse named Elton, not named after Elton John, thank you very much.
Her room usually contains 30 or more gallons of fish tanks and the walls are properly coated with paintings she has made over the years.
One of her front teeth is an imposter.
She gives herself her own amateur haircuts on a whim.
Nicole Smith, News Editor
Jun 03, 2014

Pirates are Better than Ninjas.

(Story)

Mar 19, 2014

"Cosmos" Hits only the First Frontier

(Story)

Dec 18, 2013
Dec 10, 2013

Is it a Berry?

(Story/Media)

Dec 03, 2013

Black Friday Odyssey

(Story)

Nov 04, 2013

Thick Seams, Gummy Shoes, and Plastic Tags

(Story)

Oct 04, 2013

Today at SDA: Club Fair 2013

(Story)

Sep 17, 2013

New Teachers Q&A 2013

(Story)

Sep 16, 2013

A Big Honking Problem

(Story)

Jun 10, 2013

Mustang Musings: Rorschach Test

(Story)

May 08, 2013

Green Week Festivities

(Story)

Apr 26, 2013

Mustang Musings: Green Ideas

(Story)

Mar 15, 2013

Mustang Musings: Senior Out 2013

(Story)

Mar 08, 2013

SDA Alumni Anoushka Shankar Performs for International Women's Day

(Story)

Mar 01, 2013

Mustang Musings: Formal vs. Lamrof

(Story)

Feb 20, 2013

Comedy Sportz Alumni Game

(Story)

Feb 14, 2013

First Fridays with Hornig

(Story)

Feb 01, 2013

Mustang Musings: Super Bowl Funday

(Story)

Jan 24, 2013

Mustang Musings: Semester Change

(Story)

Jan 18, 2013

Mustang Musings: Gun Control

(Story)

Jan 16, 2013
Jan 09, 2013

Mustang Musings: Winter Break

(Story)

Nov 06, 2012
Oct 26, 2012

Homecoming Flag Football

(Story)

Oct 26, 2012

Homecoming Royalty

(Story)

Sep 20, 2012

SDA Barbeque

(Story/Media)

Oct 18, 2011

Homeroom Discussions Bridge Differences

(Story)

Sep 15, 2011